Post-traumatic and psychological illnesses

My husband went out of his mind during his detention as a result of ill-treatment and when I went to visit him in the mental asylum he was constantly making the gesture of holding a revolver to his head.

 
A GUN TO THE HEAD. 28-year-old Pierre A. took part in the first battles as a soldier in 1914 but he soon returned home after being wounded during the siege of Namur. This chapter in his life is quite mysterious as he apparently deserted. Subsequently taken prisoner by the Germans he was deported until 1918. Upon his return, he suffered from a mental disorder and died in Zelzate asylum, where he was known as Joseph H.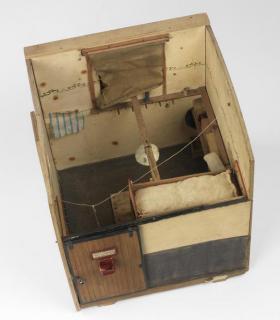 INCURABLE NERVOUS DISEASE. The architect, Auguste C. was detained for 3 months in 1917 in the Liège citadel after trying to cross the Dutch border near Visé. He was then deported for one year to the Sennelager camp. On his return to Schaerbeek, in June 1918, he was kept for a short while in the Saint-Elisabeth sanatorium. He subsequently resumed his military career in the Engineers.
In 1921, his parents, concerned about his "eccentric behaviour", sent him to the Geel community. After staying there several times, in 1927, he became dependent upon his mother, who was a widow by that time. His nervous disorder was never acknowledged as stemming from his detention in a labour camp.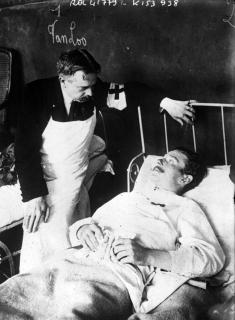 RAVING LUNATIC. Maurice-Marie F. was a 34 year old farmer from Wavre. Arrested in August 1918 by the Germans, he was subject to severe physical abuse affecting various parts of his body, particularly his head, as a result of which he suffered from pounding headaches. He passed away in December 1918 in a state of extreme madness. He left behind a wife and a minor girl.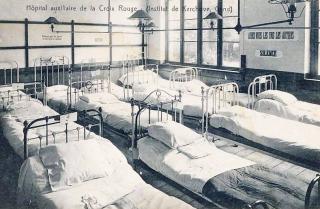 DRIVEN INSANE BECAUSE OF BRUTALITY. Célina E. a 22-year-old woman from Brussels, wanted to be a nurse on the frontline or work in an arms factory in Great Britain. She was arrested on 26 July 1915 on the Dutch border and held in prison for 12 or so days in Turnhout. Physically abused by the German soldiers and guards, she refused to inform against a smuggler and was sent to an asylum in Brussels.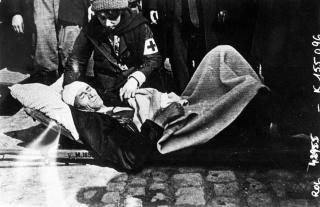 It was in 1917 that she returned to live with her parents, in Waha. The doctor diagnosed her as having acute manic disorder, accompanied by hallucinations, delirium and suicidal tendencies. Célina was never able to work or lead a normal life ever again.