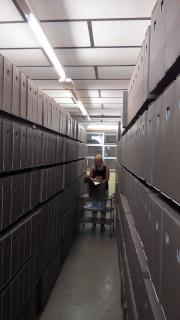 AIMS
As part of its heritage conservation duties, the Directorate-General for War Victims ensures the safekeeping of 240,000 case records about people who suffered physical harm during the First World War, either on Belgian territory or in the occupied territories. To coincide with the centenary of WWI, the DG has taken the initiative of organising a virtual exhibition in the form of a website: www.belgiancivilians14-18.be.
Still largely untapped for scientific or family-related purposes, this wealth of documentary information is now the focus of a project designed to showcase the wide range of resources: general information, illustrative stories seen in context, personal testimonies and visual media.
The scientific and educational content (textual, visual and multimedia items) featured on this site is taken from archives at the DG for War Victims, unless otherwise specified. The actual names of the victims have been intentionally concealed in order to protect the privacy of the families. Chosen for their illustrative value, the stories and documents have been supplemented with a whole range of external sources, whose exact references are shown below.
The site content (including the hyperlinks) may be adapted, changed or supplemented at any time without any warning or notification.
The project has enjoyed the financial support of the Federal Public Service for Social Security and the General Commission for the Commemoration of the First World War.
SOURCES
Belgica (Bibliothèque numérique de la Bibliothèque royale de Belgique / Digitale bibliotheek van de Koninklike Bibliotheek van België)(Bruxelles / Brussel) - http://belgica.kbr.be
Bibliothèque Nationale de France (Paris) – Gallica (Bibliothèque numérique) - http://gallica.bnf.fr
Cercle d'histoire de l'entité lessinoise (Lessines) - Monsieur Michel Duhaut
Direction générale des Victimes de la Guerre (SPF Sécurité sociale, Bruxelles) – Service Archives et Documentation (SVG-DOS) – http://warvictims.fgov.be
Europeana 1914-1918 – untold stories & official histories of WW1: www.europeana1914-1918.eu
Europeana exhibitions :
http://exhibitions.europeana.eu/exhibits/show/europeana-1914-1918-en
http://exhibitions.europeana.eu/exhibits/show/14-18-collections-de.
Imperial War Museums (London) : www.iwm.org.uk
Library of Congress (Washington) - Bain Collection - http://hdl.loc.gov/loc.pnp/pp.ggbain
Nationaal Archief (Den Haag), Spaarnestad Photo - www.spaarnestadphoto.nl
National Library of Scotland (Edinburgh) - First World War official photographs - http://digital.nls.uk/first-world-war-official-photographs
RENCY G. , La Belgique et la guerre, Bruxelles, t.1, 1933, pp.38 et 96.
Tasmanian Archives & Heritage Office (TAHO) (Hobart) - www.flickr.com/people/tasmanianarchiveandheritageoffice
Wikimedia Commons - http://commons.wikimedia.org
CREATION
Idea, writing en research : Gert DE PRINS, Aline GOOSENS, Marie LEJEUNE, Alexandra MATAGNE - Directorate-General for War Victims.
Web Concept : Martijn DIERCKX - Craftzing CVBA
Web Design : Petra SELL - Volpelino
Web Development : Blue4You