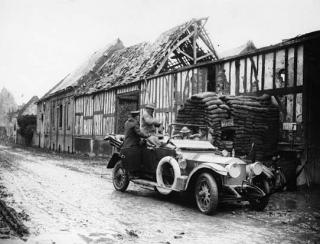 LITTLE AWARENESS OF TRAFFIC DANGERS. People living in the Hainaut region fled from their homes in the face of the allied advance in the autumn of 1918. One such person was 56-year-old François R. who decided to leave Mont-Saint-Aubert. His path crossed that of a German car and he was run over. He died in Thimougies, on 7 December 1918.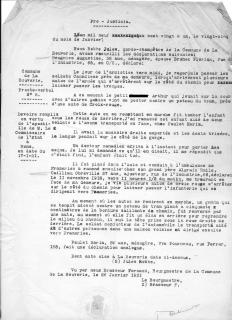 10-year-old Arthur B. was delighted to watch the Canadian troops passing by on their way to celebrate the Armistic in Mons. It is thought he might have got too close and a Canadian ambulance carried out a manoeuvre without seeing the young boy and ran him down while reversing. Arthur died instantly on the side of road, in La Bouverie.
He was busy harvesting some potatoes, when some enemy officers passed by and questioned him to find out who the potatoes were intended for. He said they were for his own consumption. Shortly afterwards he was summoned to report to the Kommandantur and he was sent to prison after being told he was being convicted for his potatoes.
DEAD FOR SOME POTATOES. Pierre-Jean V. a barber and innkeeper from Cuesmes, was married to Marie-Thérèse C. The 65-year-old man was arrested in Courtrai on 16 November 1916, for an illegal potato selling activity. He died one week later from a heart attack and no-one ever found out if he received any treatment.
Les It was unprecedented the number of women and girls who were attacked (...) but owing to their sense of propriety the victims of these despicable acts generally refused to say anything about them.
ATTEMPTED RAPE.  21-year-old Elodie V. was married to Arthur V. As a result of the war, she went to stay with her parents in a house in Dudzele. The German authorities had ordered her parents to leave their own home so they had moved in with a neighbour. The neighbour, who was a widow, agreed to hire Elodie as a servant.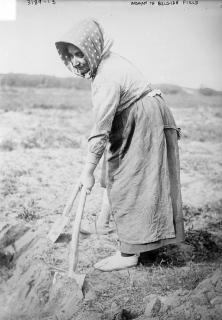 In September 1916, Elodie was in the kitchen when a German soldier entered without any warning. She was sitting on a chair and the soldier grabbed her by the legs, trying to rape her. As she was struggling with him she seized a piece of coal that was within reach and struck the soldier on the head.  
She was arrested and sent to prison in Bruges for 56 days for striking and injuring the soldier... After the war she managed to obtain compensation for her detention.