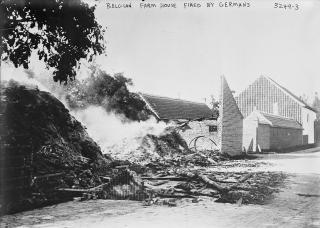 REQUISITION OF GRAINS, 1915. Jacobus A. was born on 27 August 1838 in Oedelem. The farmer lived in Maldegem. He married Nathalia V. in 1887. In March 1915, some German soldiers entered his farm in search of his grain stock. Jacobus defended himself to prevent what he regarded as an act of theft. As a reprisal, he was arrested and taken to Bruges prison, where he remained until 3 April 1915.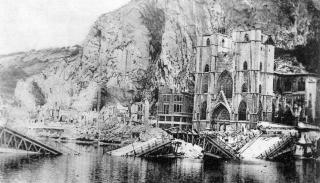 DINANT 1914 : ENFORCEMENT OF MARTIAL LAW. Marie M. was born in Dinant on 26 March 1876. She had 4 children, including Ferdinand, born in 1912 from her marriage with Hubert H. On 25 August 1914, Hubert was shot by the Germans.
They were gagged and had their legs tied together (…). They were awful to look at and I believe they knew what to expect, as all 4 of them had such haggard-looking faces.

 
The German soldiers unleashed a reign of terror. Along with many others, Hubert, had been hiding out in Montfort cave. When he was discovered he was accused of robbing the bodies of German soldiers and Belgian civilians, just like 3 of his companions. He and they were shot under martial law, without any investigation and without any judgment, simply on the basis of a single testimony.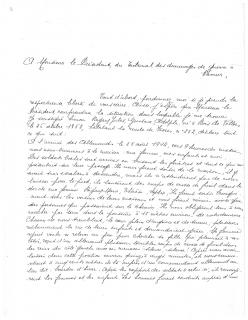 EPPEGHEM 1914 : PLUNDERING DURING HIS DEPORTATION. Charles M. was born in Moerbeke in 1874. He and his wife Justine P. lived in Eppegem. Their 4 children were born between 1904 and 1914. In August 1914, he was arrested and deported to the Soltau camp. When he returned in February 1915, the house was empty... He soon resumed his work as a carpenter with Paul Buéso et fils, a painting restoration firm in Brussels.
Charles had lost everything. The entire contents of his house had been plundered. His carpentry equipment, his furniture, his clothes, his shoes and all those of his family. Spoons, jewellery, a coffee grinder, vases, pots, lamps, … Everything had been stolen! Even his animals had been taken away. He sought compensation after the war.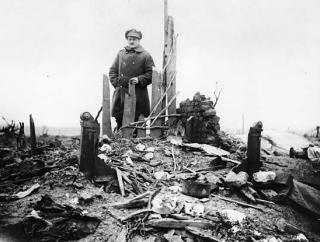 GERMAN SOLDIERS SPREAD TERROR CLOSE TO NAMUR, 1914. Marie-Thérèse R. was born on 23 February 1863 in Bois-de-Villers (Namur). She was married to Simon R. and together they had a daughter, who was born in 1895. The German soldiers arrived in the village on 25 August 1914.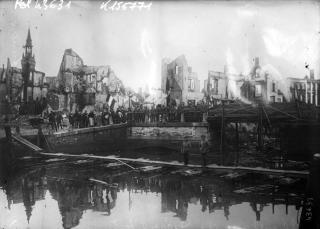 They smashed windows and everything standing in their way. They forced Marie-Thérèse, Simon and their daughter to go outside. They did not allow Marie-Thérèse the time to come downstairs and hit her with their rifle butts. The soldiers made all the neighbours leave their homes and lie down on the ground. Everybody was in a state of panic! Marie-Thérèse raised herself to console her weeping daughter but was immediately struck several times in the small of her back and was ordered to keep quiet.
She was seriously incapacitated, suffering from constant backache. In 1921 she was operated on in Leuven for kidney cancer.