As I had remained at home when the Germans invaded, the Hunts made me leave the house I lived in with my parents in Woumen-lez-Dixmude, where we were running a chemical fertiliser, grains and endives business, a wine and liqueurs business and my father held several administrative appointments. They would not let me take anything with me, not even my clothes.
DIXMUDE 1914 : CHANGE OF PROFESSION. Joseph D. a 30-year-old bachelor, was working as an officer messenger in a commercial concern run by his family. At the start of war, he was confined for 8 days in Woumen, in the attic of a house belonging to the municipal authorities along with some other inhabitants. He was then moved to Torhout and Lichtervelde, where he stayed for a few weeks before managing to escape.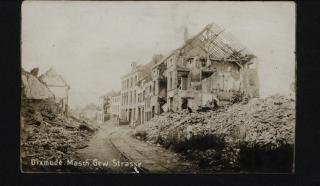 In the wake of a British air raid on Lichtervelde during the night of 26 October 1917, the convent of the Daughters of St. Paul where he was being accommodated was destroyed, claiming 6 lives. Joseph D. was the only survivor. For 3 months he was completely unfit for work as various parts of his body were burned and his back and one arm were injured as a result of falling from the first floor when the building collapsed.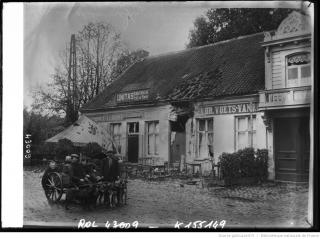 BRUGES 1918 : COMPLETE LOSS OF INCOME. Born in Malines in 1853, Françoise D., widowed in 1908, ran a shop selling cigars and cigarettes. On 19 June 1918 a bomb exploded in front of her home, in Langestraat, Bruges. As a result of the injuries to her head and thigh she was taken to Bruges hospital.
Françoise was unable to work for 2 months owing to a bout of deafness caused by her head injury and her leg injury making it difficult to move around. Apart from the physical suffering, her house and business had suffered considerable material damage. She was declared destitute in 1921.
On 16 August 1917, one of them saw me running towards a bargee and picked a quarrel with me (a quarrel involving Germans) most likely telling me to clear off to my site. (...). He pushed me, grabbed hold of me and hit me in the back with a rifle butt. At the time I didn't think about what I was doing and turned around and smacked him a few times in his gob, …er, face, knocking him over and giving him a couple of kicks...
BRUSSELS 1917 : FIGHTING AND UNEMPLOYMENT. 55-year-old Jules R. lived in Brussels and worked as an inspector for a coal warehouse keeper in the Vergote dock. His business relations with the bargees led the German authorities to suspect him of forwarding letters. Subsequent to a fight with a German soldier his job was suspended for several months.
After being taken to the Kommandantur, he was committed to prison and his house was searched. He was ordered to pay a heavy fine and serve a prison sentence for forgetting his identity papers. It was a huge mistake reacting to the soldiers acting in the line of duty.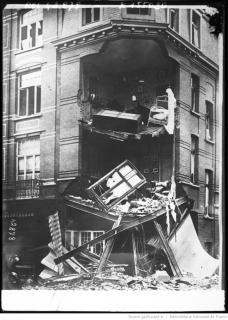 BARCHON 1914 : PROBLEMS ON THE FARM. German troops moved into the area following the fall of Barchon fort on 8 August 1914. They seared the night of 14-15 August in the collective memory. The Lehane family, the owners of a 22-hectare tenanted farm, witnessed the execution of its 3 eldest sons and its house being burned down. The sons were no older than 19, 15 and 12...
The family survived with 6 other children, 4 girls and 2 boys, but life was harder without the certain support of the three 3 missing eldest sons. They were the only ones old enough to help their father run the farm. The mayor backed the family's request for compensation after the liberation.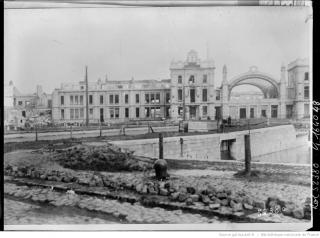 The eldest son "was a very strong, highly intelligent young man. He attended night classes at the Liège vocational school for public works (…) He would certainly have become a gifted craftsman and worker and would have offered invaluable support to his family if the barbarians had not cut his life short."