In spite of being repeatedly warned by the Germans, he continued to refuse to work. Confirmation also that he always behaved like a true Belgian believing that Victory was certain and he always tried to raise the spirits of his fellow inmates through his good and open philosophy of life.

 
A CABINET MAKER FROM MONS BECAME A SALES REPRESENTATIVE SUBSEQUENT TO HIS DEPORTATION. Deported to Germany as a civilian on 26 September 1914, Joseph D., a 30-year-old cabinet maker, flatly refused to work for the enemy. In spite of his protests, his refusal to work and the efforts of his family, he ended up being deported until 20 November 1918. He stayed in labour camps located in Zossen, Havelberg, Salzwedel and Merseburg.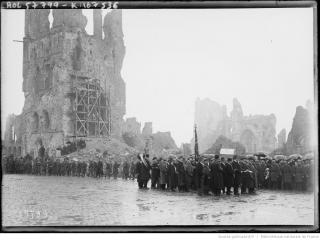 After being interviewed by the Swiss-German Medical Commission it was decided he should be interned in Switzerland owing to his state of health. However, this decision was never put into effect on the grounds that no Belgo-German agreement has been concluded concerning the internment of civilian prisoners in Switzerland.
He was in such a poor state of health when he got back that he was no longer able to work as a cabinet maker, so he entered the business world acting as a sales representative for the Malengreau soap works and Raverdy chicory (Jemappes).
When I got back to Brussels I found my house had been sold, my home destroyed and at the age of 40 I had to start earning my living. I was so depressed because of my sorrow and prison experience and tormented by the investigations stemming from the divorce proceedings instituted by my husband that I went to live in Tervuren, cutting of any contact with my former friends.
BRUSSELS 1918 : DIVORCED AND NO INCOME. On 23 October 1917, Eugénie B. was arrested in Brussels where she lived and taken to the Namur military prison. In the end, she was sentenced on 17 January 1918 to 3 and half years in prison, subsequently reduced to 15 months and a 2,000 Marks fine. She was accused of having passed on letters and documents for espionage purposes and working together with the underground press. She was transferred to Siegburg prison, where she was required to do whitework embroidery for people living in Siegburg and ended up with an eye disorder.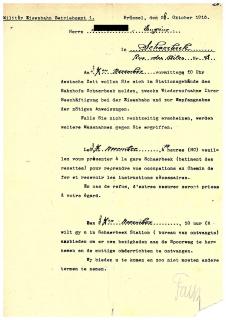 JOB ACCOMMODATION. Eugène L. worked as fitter for the railway company. Summoned to the Kommandantur in Brussels on 19/11/1916 and invited to resume his profession he refused. He was then held for 1 month at the Kommandantur before being deported to Sennelager and Munster, from 19 November 1916 to 6 December 1918.
When he returned from Germany in the wake of his deportation, he was extremely depressed but he continued working, receiving in-house treatment from the administration's medical officers. He was able to continue working because his duties were that of a head fitter so he tended to be involved in surveillance activities.
While in the camps, Eugène was twice locked up for refusing to comply. For 35 days all he had to eat was 175 gr of bread per day and a plate of soup every 4 days. Apart from that, he had to sleep on boards and there were not enough blankets. He caught the flu in June 1918 but was not treated by the German doctors. When he got back home, he went back to work after 10 days' convalescence but first of all his workplace had to be adapted.