Deportations close to the frontline in France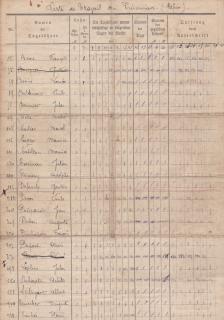 SLAVE LABOUR. A 21-year-old farmer from Nederhasselt, Viktor S., was rounded up and deported to France from November 1916 to February 1918, staying in the Romagne, Grand-Failly, Ecurey and Longyon camps. Every day, Viktor was set to work cutting trees and breaking stones. He had the physical stamina to keep on going, which was not true of all his fellow workers.
BURNED BY BOILING-HOT COFFEE. Apart from the lack of food and unhygienic conditions, Viktor also had to contend with the humiliations and attacks visited upon him by his German jailers as a result of refusing to sign an employment contract. A German guard even threw some boiling-hot coffee at him, burning one of his feet.
"SICK LEAVE". As a result of the burns, Viktor was able to return to Nederhasselt, where he could be treated. After 4 months of care he had to return to work. On his return from deportation, in February 1918, he once again had to receive hospital treatment.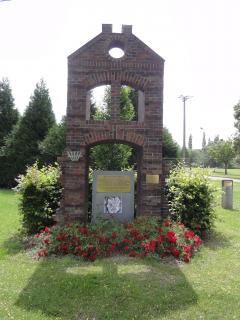 In 1917, in Effry in Thiérache (Aisne), the Germans chose a factory as the site of a field hospital created to centralise the civilian and military patients. Between 1,400 and 1,600 people were crammed into the place. In the military cemetery adjacent to the civilian cemetery, the graves of civilians who died in captivity now surround the ossuary containing the mortal remains of 688 Belgian, French, Italian, Russian and Romanian prisoners who died in 1917.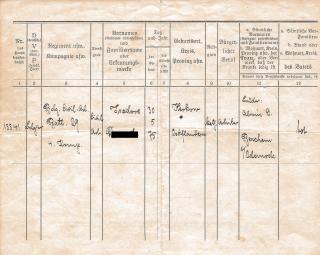 MISFORTUNE STRIKES. It was about 10 o'clock in the evening, on 30 April 1918, when 29-year-old Nicolas L., a piercer living close to Hautmont (France), tried to cross the Franco-Belgian border. A German police officer called out to him to stop but he ran away, whereupon the police officer fired two revolver shots, and one of the bullets hit Nicolas L.'s left leg. In spite of his efforts to continue his escape, he was caught, treated and then sent to join a punishment battalion in Longwy.
Apart from the injury he incurred when trying to escape, for which he was incapacitated for 6 weeks, Nicolas L. suffered another injury during his forced labour in Réhon. His right leg was crushed on 7 August 1918, when a locomotive pulling some small trucks was derailed.
Injured in a punishment column in Longwy (France), I was treated by the Huns, if you can call it treated, then, from the Armistice until 7 February 1919, by the French army in Guéret (Creuse).
FORCED TO WORK CLOSE TO HOME. Jean-Baptiste M., a 53-year-old farm hand, lived in Bosseval (Ardennes-France). Used to perform forced labour, he was not deported very far from home, as his duties took him to the nearby Bosseval woods. Just like him, several locals were forced to work there starting from February 1917. As a result of poisoning and a lack of follow-up care, Jean-Baptiste M. passed away on 15 September 1918.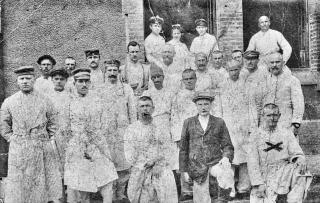 FLUSHING OUT PEOPLE WHO RESIST BY TARGETING THEIR FAMILIES. Assigned to forced labour duties, 20-year-old Octave D. left for Sedan in November 1916. He managed to escape and reach as far as Kruishoutem on foot, where he went into hiding. In October 1917, because he was also suspected of resistance the Germans targeted his father, Jules. After repeatedly threatening and intimidating the father to get him to confess, they had him locked up in Deinze prison, where he was not allowed to eat or drink.
THE SON GIVES HIMSELF UP. Octave D. decided to hand himself into the authorities in order to end his father's ordeal. Continuing to refuse work to the detriment of his homeland, Octave was then sent to a punishment camp in France. His father was severely affected by the treatment he had received, and struggled to recover. In the wake of these events, he began showing the first signs of Parkinson's disease.
BECAUSE HE TRIED TO PICK AN APPLE… During his internment, Octave D. received a paltry wage and was often mistreated and underfed. When he saw an apple lying on the ground he rushed to pick it up but the guards soon sprang into action. He was shot at close range and a bullet pierced both legs. He was finally repatriated on 17 August 1918.
A German soldier dropped from the train a series of packs which had been laid down on the car floor, but one of them got stuck. Subsequently, the person who had come to fetch the pack stepped onto the foot stool and was struggling to free the parcel when the train started again without prior notice. The person then fell on the track and got his foot cut.

 
RAILWAY TRAGEDY. Ghislain D., a plasterer, was 35. Married and father, he was living in Guignies, near Tournai and had been summoned to compulsory labour in a gravel pit near Valenciennes. On his way back from furlough, on March 19, 1918, he was sitting in a German military train that was carrying him to the labour camp in Try Saint Léger.
Yet, his arrival took an unexpected turn. Ghislain fell between the track and the train and his right leg was crushed. He was then carried away to the hospital in Valenciennes, where he had his leg amputated by German physicians, at a distance of 20 cm from the hip. He recovered at hospital until September 26, 1918, before going back home.
Ghislain D. asked for compensation on August 28, 1919, and in January 1923, he was recognized as being disabled with an incapacity for work of 65%.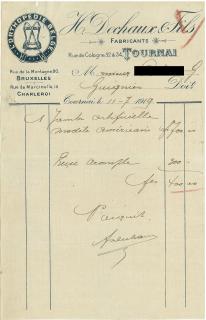 The accident was to set a precedent as it was caused by a train travelling under deportation circumstances and without any relation to the work carried out inside the camp : "Case law has accepted that the accident caused by a car belonging to the German or Allied Forces gives entitlement to compensation, that one could reasonably ask oneself the question whether exception should be made for the railway company owning the train with which the person involved was forced to travel and that, moreover, a specific factor has to be taken into consideration : deportation." (Fernand J., lawyer)