Patriots : clandestine lives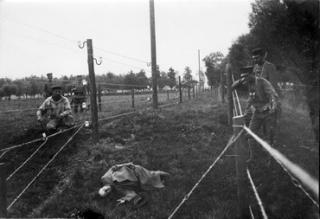 When the electrified line was brought into service along the Belgo-Dutch border in 1915, over 500 people died from being electrocuted or shot by guards. German counter-intelligence estimated that 50,000 Belgians eligible for call-up nonetheless crossed the border thanks to the various smuggling organisations.
Attention, danger of death.

A high-voltage electric fence has been installed along the Dutch border. Touching the fence, which is indicated by warning panels, will result in immediate death, as will touching a person, animal or an object suspended on the fence.

Children are not allowed to go near the fence unsupervised. It is strictly forbidden to go past it. Troops have been ordered to shoot without issuing any warning.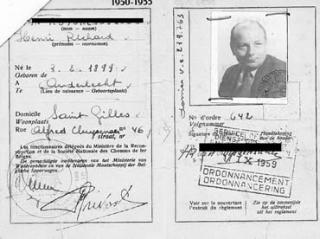 TURNHOUT, 1916: ARRESTED FOR RESISTING. Henri VAN R. was born in Anderlecht, Brussels, on 3 February 1899. He was a bachelor and was still living in the municipality. In 1916, he was arrested in Turnhout. He was charged with resisting, put in prison and deported for over 2 years to Germany. He was assigned political prisoner status.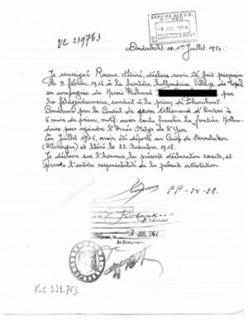 CROSSING "THE LINE". Henri decided to join the Belgian army, which was operating on the Yser defensive line. He was arrested on 9 February 1916, in a village close to Turnhout. He was accompanied by Désiré R. Both of them were tried and the German War Council in Antwerp sentenced them to serve a 6-month prison sentence. They were sent to Turnhout prison and then to the Sennelager camp. They were kept there until November 1918.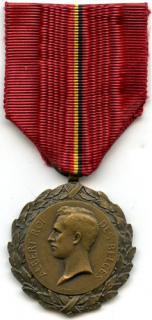 THREE YEARS IN THE IRON AND SALT MINES. Louis S. was born on 28 March 1895 in Saint-Gilles, Brussels. He and his wife Félicie B. lived in the Brussels municipality of Anderlecht. In November 1915, Louis tried to cross the border but was arrested by German soldiers in Lixhe (Visé). 8 days later he was deported to Germany, where he remained for 3 years!
Louis was first deported to Holzminden. 3 months later he ended up in the Braunschweig Kommando. He was made to work in an iron mine but fell ill and spent 6 months in the infirmary, after which he was sent to work in a salt mine but fell ill again and returned to the infirmary, where he remained until his release, on 9 November 1918.
Louis was shot in the foot trying to cross the border. He had a toe amputated during his detention in Germany. He also had to contend with TB, bronchitis and heart problems. It took 3 years before he could start working as a fitter again.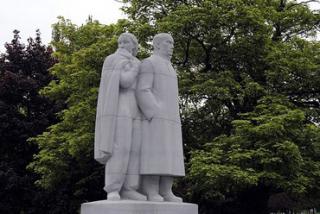 TWO YEARS IN A CAMP. Frans K. was a 39-year-old diamond worker. On 1 September 1916, he was caught attempting to get past the electric fence near Schooten. Kept in prison in Antwerp for 2 months, he was then deported to the Sennelager and Münster camps in Germany. He finally returned to Belgium, where he was kept in Diest prison until late October 1918.
The troubled life we had been leading for some time, resulting in this arrest, meant we needed feeding up.

However, the food served in prison was insubstantial, even though we were forced to endure lengthy, dangerous interrogation sessions. My husband had a caterer serve us with dinner every day.
MOTHER AND DAUGHTER. Marie-Thérèse B. and Simone VP. lived in Molenbeek. Their husband and father was a wine merchant. The 48-year-old mother and 17-year-old daughter did not hesitate to help young people to join the army in the field. They were both arrested on 12 August 1918 and kept in Saint-Gilles prison for several months, without a trial.
Your research.
Find out more about Belgian victims of war in your family or abroad.